Regular price
Sale price
$18.99 USD
Unit price
per
Sale
Sold out
Get Yourself A Mini Massage At Home, Say Goodbye To Tight, Sore, And Pain Muscles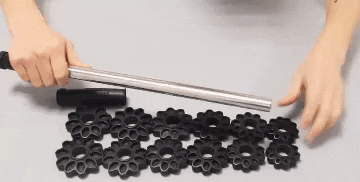 When you are doing a highly repetitive movement such as running, swimming, or biking, you're typically overusing some muscles.
The muscles that get overused tend to get tight, and a tight muscle doesn't function properly and increase the chances of injures.
By using our Maspro Adjustable Muscle Massage Stick, you can regain the flexibility and mobility of your body and improve your health by encouraging increased blood circulation and the exchange of nutrients.
It is a great way to help loosen up muscles, relieve muscle pain, muscle spasms, and soreness.
Moreover, this muscle massage roller is a perfect way to accelerate your muscle recovery after training, warm-up, and boost your performance during a workout or protect your muscles from injuries by strenthening them and increasing their endurance.
Some significant areas to use a muscle roller on include: tight IT band, plantar fasciitis, tennis elbow, muscle cramps, muscle spasms, muscle strains, tight calves, carpal tunnel, tense neck and shoulders, tight hamstrings, and more.
It makes a perfect tool for athletes, runners, gym rolling, sprinters, elite fitness, marathons, or even beginner athletes.
Features And Benefits:
Personalized Massage: Target pressure points, increase circulation, and alleviate sore muscles.
Customize Your Relief: Features a comfortable attach-and-remove handle that allows you to take off and arrange the massage rings in any order, resulting in hundreds of different ways to configure for a personalized pain solution.
Hand-Held Massage: 17 Inches long hand-held massage stick with ergonomic sure-grip handles.
Improve Perfomance: Deep tissue stimulation helps maximize muscle performance, flexibility, and power. Highly recommended by athlets, personal trainers, and physical therapists.
Note: Due to high demand, please allow 10-15 business days for delivery.
Share
View full details